UNDERGROUND STORAGE TANK REMOVAL
Before the 1980s, underground storage tanks, also known as USTs, were not well regulated.  Often, companies did not even need to notify any governing agencies if they wanted to install a tank on their property.  As years passed many forgot that the storage tanks ever existed.  As new owners take over the property years later, they are often surprised to find an underground storage tank buried deep in the ground.  Many property owners do not even know if the tank is empty or may potentially be full of hazardous chemicals within.  Plus, many early tanks were made of steel which over time has the tendency to corrode and leak hazardous materials into the surrounding soil.  And that is where we step in.
For environmental contractors, Chicago can regularly turn to Axis Response Group.  We have the best services to assist in mitigating contaminated areas, especially when dealing with underground storage tank removals.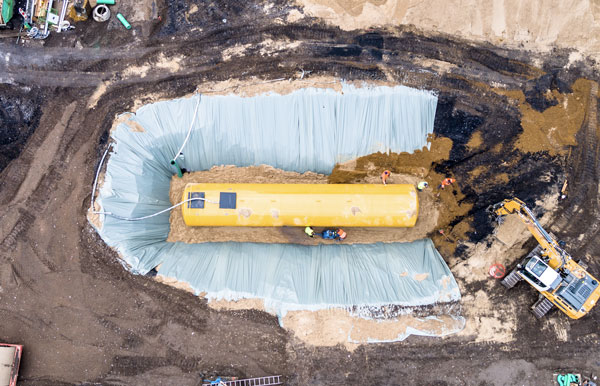 Why Should You Remove an Underground Storage Tank?
Having contaminated soil can effect the individuals living and working nearby.  Not only are we able to assist in the actual clean up and removal, we are also able to work with regulatory agencies to ensure all of the permits and efforts are in compliance with strict government guidelines.  This includes:
LPC-662 & LPC-663 Certification
Environmental Permitting & Regulatory Compliance
Soil Disposal Compliance
Our process is different for each contaminant found at the site.  We regularly visit the property to gather samples which are sent to a laboratory for testing.  Depending on what type of chemicals are found, Axis Response Group will respond appropriately.  Based on what is found, we will schedule the removal and clean up of the site, proceed to abatement, and perform further testing on the site.  Because this is a very detailed process, it can take some time to complete, and to complete correctly.  We understand that companies regularly have tight deadlines and budgets and our team of experts work efficiently to ensure that deadlines are taken into consideration.
At Axis Response Group, we like to educate our customers.  As environmental contractors Chicago residents can become more aware and educated through our process and efforts to teach what toxins can potentially harm the environment.  Through education, Axis Response Group hopes to make the environment safer for everyone.